Diving Deep With Macular Degeneration
Last updated: February 2022
It's easy to look up facts about macular degeneration and how this condition affects the lives of those living with it, but it's like taking a dip in the shallow end, the results limiting and basic. Hearing the voices and stories of those actually living with macular degeneration allows you to dive into deeper waters, painting a fuller and more accurate picture of what living with this condition is truly like.
The impact of macular degeneration
Living with macular degeneration is more than just living with vision loss and we wanted to highlight the life-changing impact it can have on daily activities, lifestyle, and perspective. In the 2019 Macular Degeneration In America survey, we asked real people with macular degeneration to share their experiences and received 461 responses. We learned a lot from the community and wanted to highlight what a life with macular degeneration really looks like.
Symptoms of macular degeneration
While the early stages of macular degeneration are typically asymptomatic, we surprisingly found that 84% of respondents had experienced symptoms within the past month. Central vision loss is the primary symptom that is top of mind, but when we asked respondents what symptoms they have ever experienced, we found that their symptoms were so much more than just a blind spot.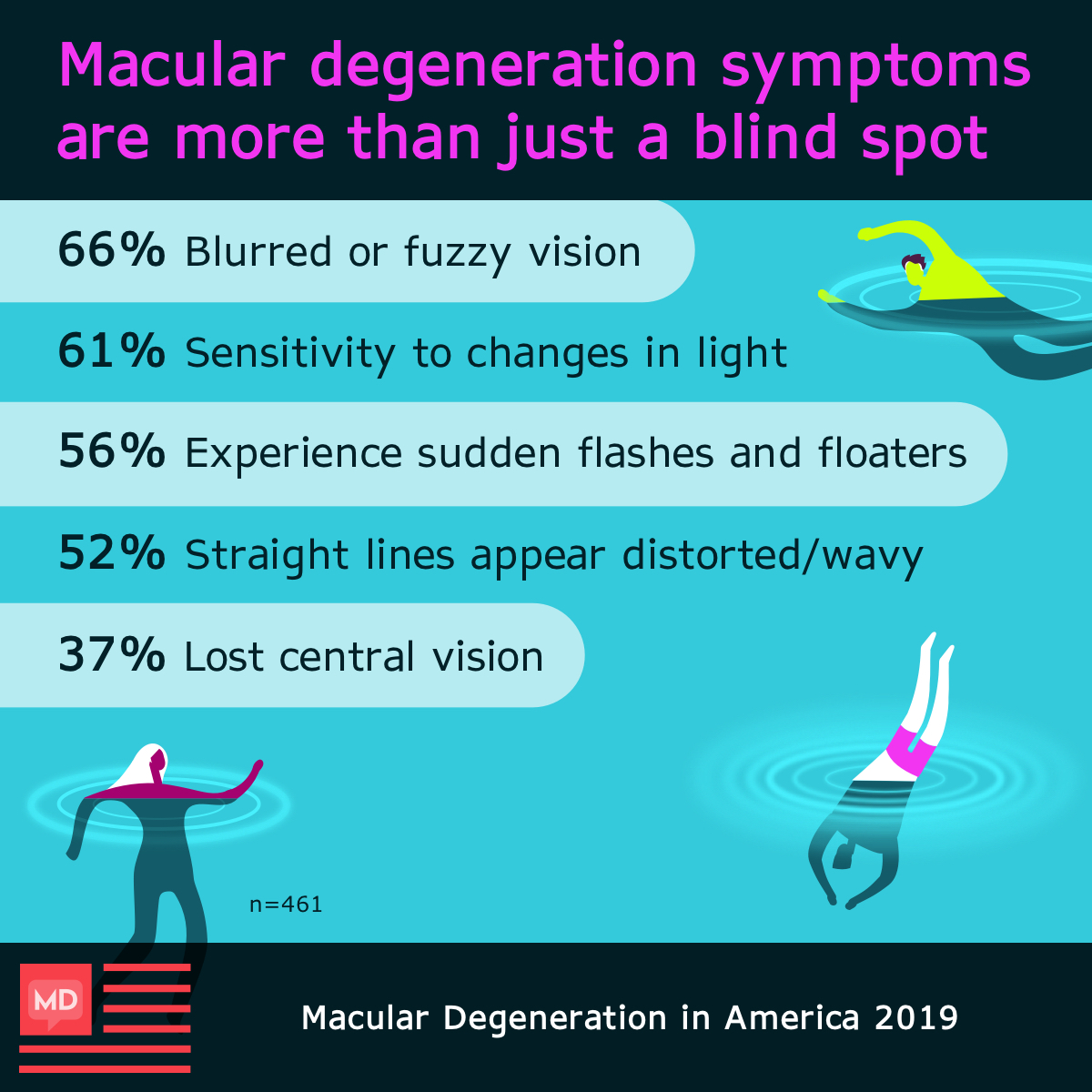 Changing life perspectives
A macular degeneration diagnosis can be a life-changing experience, impacting one's life perspective and values. We found a mixed bag of viewpoints from positivity to fear and worry. While macular degeneration may impact some daily activities, many respondents share that macular degeneration was not going to hold them back. Regardless of the viewpoint, macular degeneration changed how those living with it view their lives.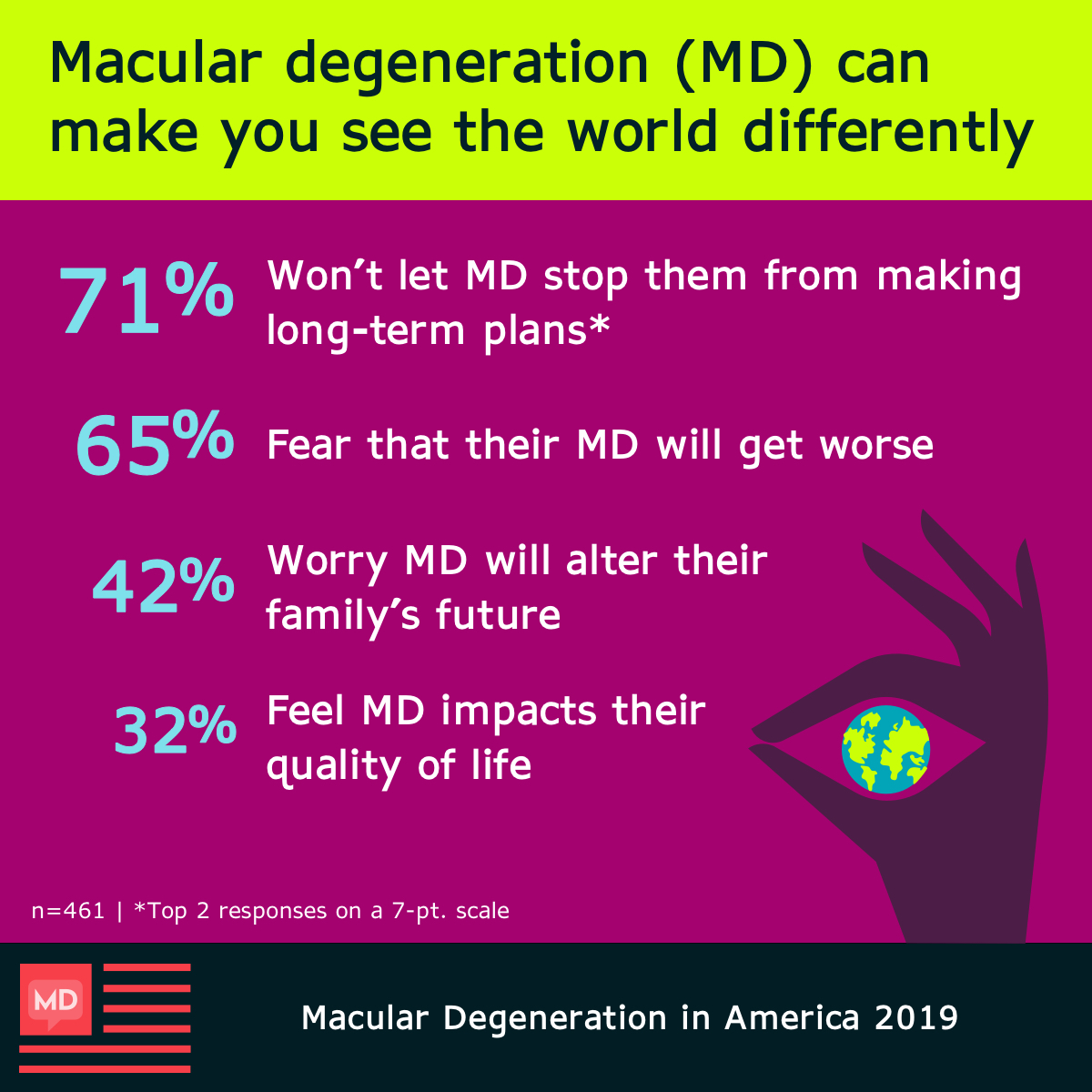 Every day changes
There are so many little things that we take for granted every day, and there's nothing quite like macular degeneration to reveal the preciousness of those "little" big things. From driving and reading to recognizing family members' faces, this condition steals much from its patients. Things that were once done with ease are transformed to challenging tasks and this adjustment can be a difficult one to accept.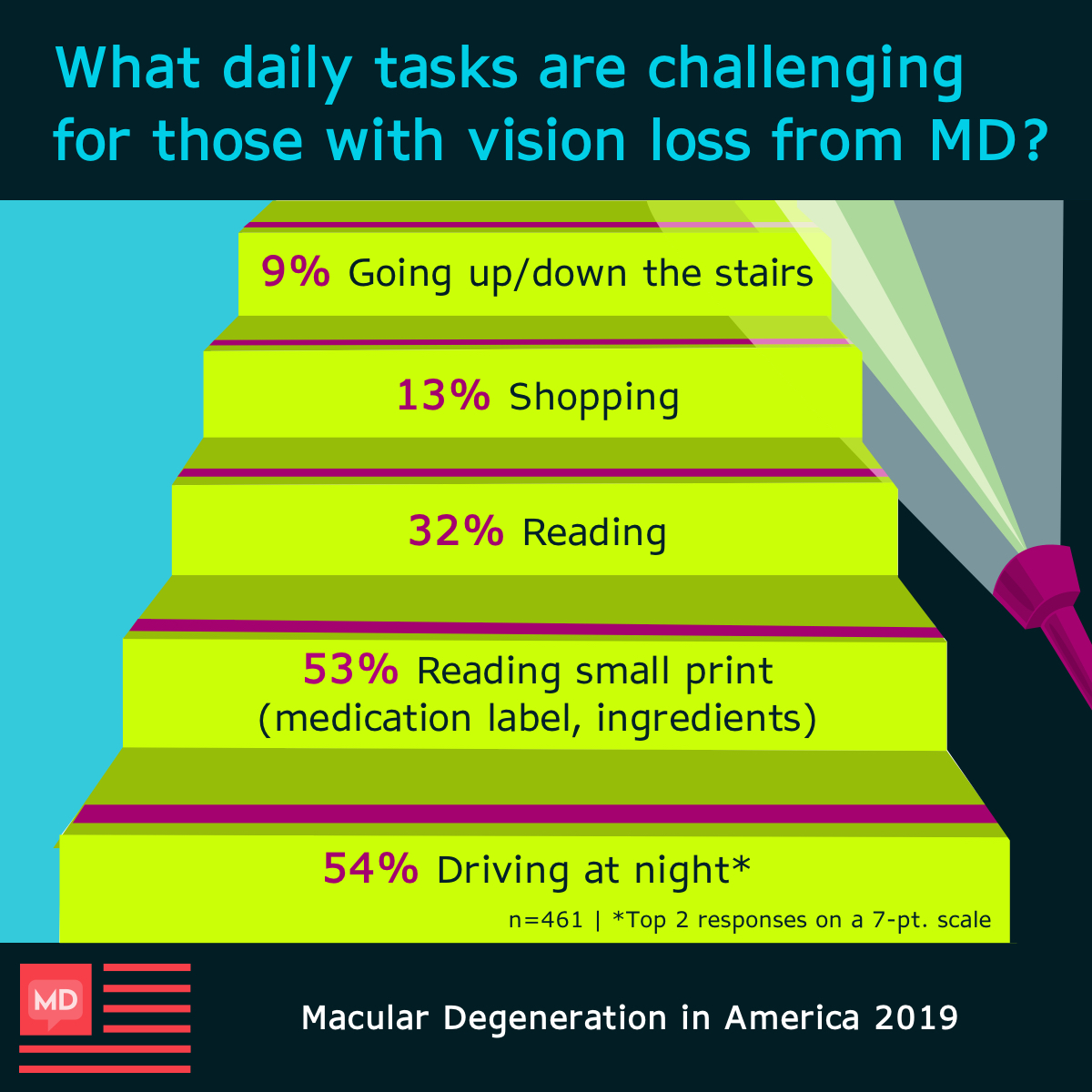 Life with macular degeneration
We were curious to know the one word that most describes what life with macular degeneration is like. With a variety of responses, we found there was an overwhelming sense of frustration and worry. Vision loss comes with many hurdles that are greater than the lost sight. It means adjusting and adapting to regular activities that used to be easy. It can mean finding the courage or confidence to ask for help. It means finding support with those who understand and informing those who don't understand this invisible condition. It means so much more than just a blind spot. It's a life-changing journey.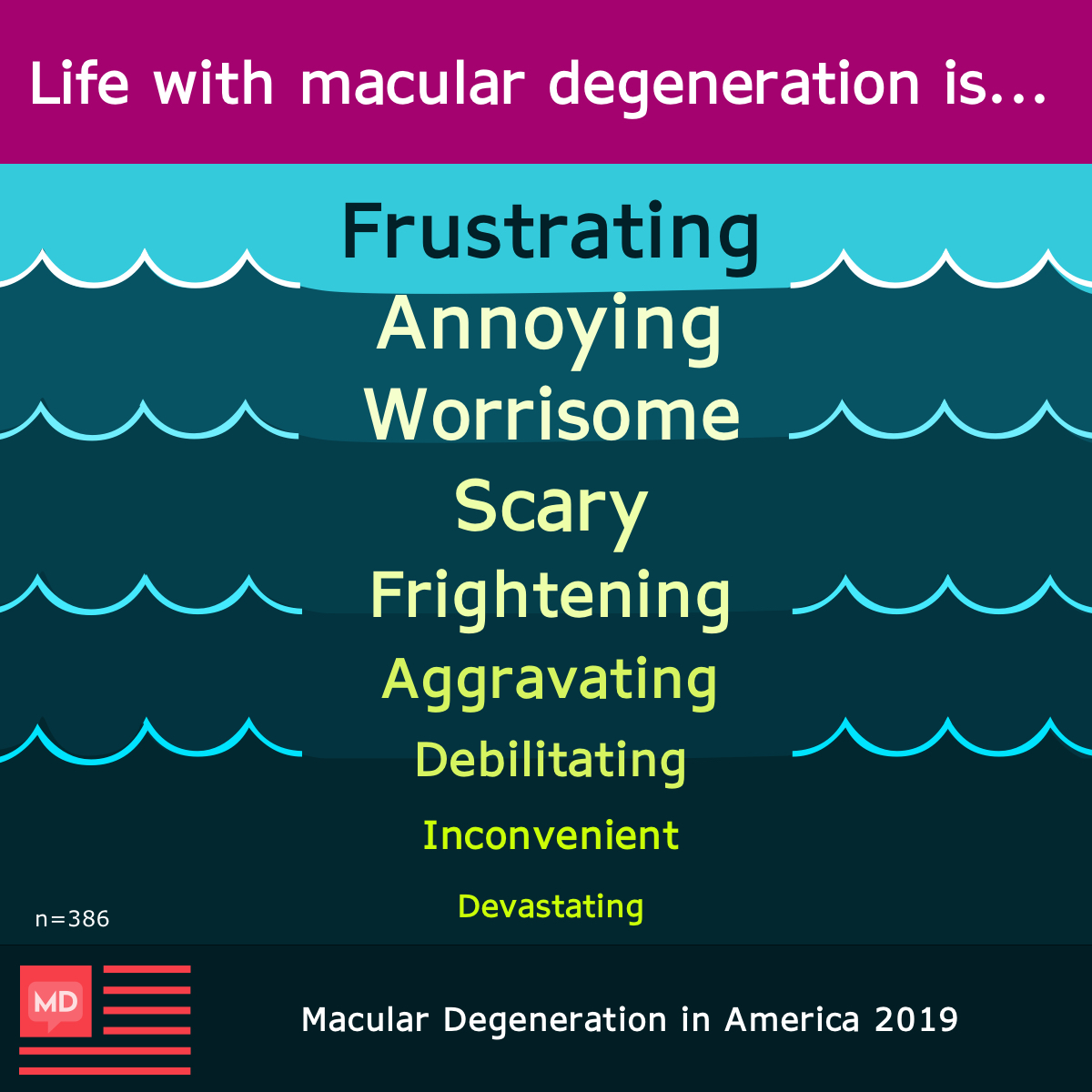 Changing lifestyle
When diagnosed with macular degeneration, typically we all hear about the lifestyle changes that can be made to help slow progression of the disease. Taking the time to take care of our bodies will not only promote overall health but eye health as well and hopefully maintain our current vision. Many of these changes include exercise, taking nutritional supplements or changing diet. For some, this may be the only form of "treatment" for macular degeneration, especially for those with dry age-related macular degeneration or Stargardt disease, but leading a healthy lifestyle is beneficial for all types. Here are some of the changes those living with macular degeneration are making.
Of those who eat a special diet or changed their eating habits, we found that many are currently maintaining a healthy/balanced diet, diabetic or low carb/low-calorie diet, or incorporating lots of green vegetables (e.g., kale, spinach) and high antioxidant foods into their diet.
The Macular Degeneration in America 2019 survey was conducted online from January through March of 2019. 461 people who have been diagnosed with some form of macular degeneration completed the survey.
This article represents the opinions, thoughts, and experiences of the author; none of this content has been paid for by any advertiser. The MacularDegeneration.net team does not recommend or endorse any products or treatments discussed herein. Learn more about how we maintain editorial integrity
here
.

Community Poll
Do you find that fear interferes with your ability to regularly go to eye specialist appointments?