16 Years of Wet AMD & Still Seeing Well
Last updated: August 2022
In January 2006 my ophthalmologist diagnosed me with wet AMD in my right eye. They mentioned that I would go blind except for peripheral vision, and cold-laser treatments might slow that. That same week I read of the need for subjects in a study of Lucentis for those who met the criteria.
Three injections in three months
Cut to the chase: The next week I met the criteria. In three injections in the first three months of 2006, I regained right-eye vision from about 20/200-400 to about 20/35. This is 16 years later, and I still get regular injections and see well in both eyes.
Cataract surgery was next
The left eye showed some early signs of wet AMD but got quick 3-4 injections and has stayed well. In between--after linear treatments showed wet AMD patients could safely get cataract surgery. I needed it and got it and began to see it even better (about 5 years ago).
Genetic component
Both of my parents had wet AMD in both eyes and were legally blind for the last 10 years of their lives. I was rescued from blindness, and as a writer/author, I've written more than one million published words within the 16 years of my injections. The injections are painless to and only cause a little overnight fog until my eyes are clear again.
Reccomendation from experience
I do need more light and more magnification for presbiopia (old-age eyes is the Greek etymology here). Each case is different. My experiences cause me to counsel: SEE A RETINA SPECIALIST!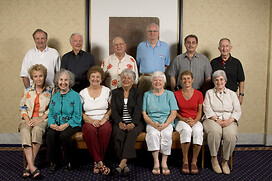 This article represents the opinions, thoughts, and experiences of the author; none of this content has been paid for by any advertiser. The MacularDegeneration.net team does not recommend or endorse any products or treatments discussed herein. Learn more about how we maintain editorial integrity
here
.

Community Poll
Do you have eye healthy recipes you like to make for the holidays?