Denny Simon
Last updated: November 2020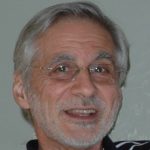 Denny was previously an advocate for MacularDegeneration.net.
Roughly 10 years ago I was diagnosed with AMD. Both my mother and mother-in-law were also afflicted. Sadly, they both lost most of their central vision before treatment was available. At that time I enjoyed 3 injection treatments and qualified for inclusion in the AREDS2 clinical trial. I take the recommended supplement twice daily and I'm happy to report that have not had an incident nor injection in 8 years. I see a retinal specialist every 3 or 4 months for monitoring.
I have been active in patient advocacy since the mid 90's. I am a founder and Secretary/Treasurer of the Hepatitis C Association. My wife Sue was a patient so I bring a caregiver's perspective to my advocacy activities.
I retired from a career in IT Financial Service Product Management at a major money-center bank a number of years ago.
Click here to read all of Denny's articles on MacularDegeneration.net.